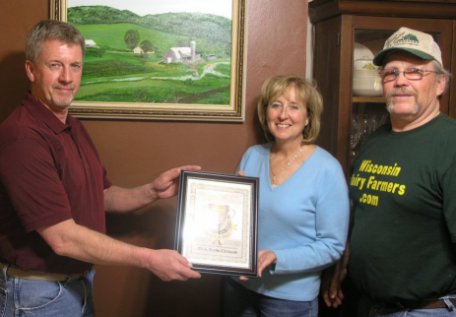 Ed and Linda Chitwood of Blue River Wisconsin were recently named Wisconsin's Farm Family of the Month by Wisconsin Dairy Farmers .com. Wisconsin Dairy Farmers .com is a website devoted to preserving our Dairy State's Family Farm heritage and history buy allowing farm families to share and store their pictures and stories on the site for everyone to see and preserve them for generations to come. The website is completely free to all of Wisconsin's Farm Families.

Ed and Linda were chosen for their unique family history and their involvement in promoting the Wisconsin Dairy Industry and their commitment and participation in the preservation of rural living in Wisconsin.

The Chitwood's own a second generation farm between Blue River and Muscoda in Richland County. Ed milks approximately 35 to 40 cows on a 200 acre farm. The Chitwoods had to replace every single building on their farm after purchasing in from Ed's mother in 1979 and raised 4 children on the farm who are now all grown and living in different locations throughout the United States.

Ed holds a seat on the "Scenic Central Milk Producers" board of directors and has been the long time host MC of the Blue River Autumn Fest Tractor pull for a decade or more.

Ed was one of 12 graduates from the very first associate degree Farm Op. program at Southwest Technical College in Fennimore, a life long member of St. John's Catholic Church in Muscoda and the founder of MIC the Milk Into Cheese project. For apposximately 10 years or so Ed and other generous farms collect milk which at no charge which is then processed at a local cheese factory into cheese and then distributed to local food banks and needy families who make good use of this Wisconsin born dairy product. An annual hay ride and bowling tournament are just two of the way that Ed uses to help fund this unique and generous endeavor.